Renovate your home on a budget with these 4 small painting projects.
When you've been living in your home for a long time, you easily get used to everything you see. And the truth is that over time it is very easy to unintentionally ignore unpleasant imperfections in your home. It can also happen that you are one of those people who are attentive to every detail and imperfection and that you are always noticing imperfections and mistakes.
Sometimes, until a guest who is important to you comes to your home, you don't start to worry about these flaws. And this is something that happens to a lot of people. But like almost everything in life, this has an easy solution. Often the solution lies in a coat of paint with the right technique and the right paint.
Here we are going to name 4 parts of the house that are usually deteriorated but that we are very used to seeing it. And as we have said, with the right repainting, this will fix and brighten up your home. And you can also find tips on how to brighten up a dark room.
Renovate your front doors with paint
You walk in and out of your front doors every day, but you probably haven't stopped to see what they really look like, if they are faded, if the paint has peeled… This problem is quite common in any home, and a coat of the right paint and a good technique can make your doors look brand new. Especially in coastal homes such as Jávea, Moraira, Denia… humidity and saltpetre damage homes much more. So calling a professional painter in these areas is a very common thing to do.
PROFESSIONAL PAINTING SERVICES
Renovating ceiling mouldings by painting only
This little detail is very common. Look up… how are the ceiling mouldings? Faded? Yellowish? Dirty looking? If it's been a while since you've painted it, chances are it doesn't look spotless.
This is easy to fix. With 4 simple steps that any painter can master, your mouldings will look as good as new. And this will give the house another touch of cleanliness, again… Yes, by simply renovating and painting the mouldings everything changes to the eye of the beholder.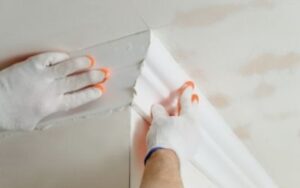 Painting the hallway and entrance hall, essential
We often pass through the hallway laden with boxes, suitcases, children… take a look at it at a height of one metre from the floor… What do you see? It is not clean, it is not bright, there are stains, footprints…
It is not a good idea to paint over the stain and that's it, because with the general deterioration of the paint, the colour of this part of the wall will not match the colour of the rest of the wall. This means that it is time to call in a local painter and give it the new, clean and bright look it should have. The house will look like new again with a good coat of paint.
Renovate the bathroom with paint
The bathroom is a part of the house that often needs repainting, even before the rest of the rooms. And the reason for this is easy: damp. It is possible that larger dampness may appear, but this requires another, more complicated damp removal treatment.
But small humidity is common in a bathroom, we use it a lot, it is dusty like any other room, we use more aggressive chemicals to clean… and all in a smaller space. If or if it is going to need more often the coat of paint to renew it. The good thing is that being smaller this job will be done quickly.
Our team of painters can help you with these small projects that will give great results in Javea, Moraira, Denia and surrounding areas.
With little effort we will make your home look brand new.